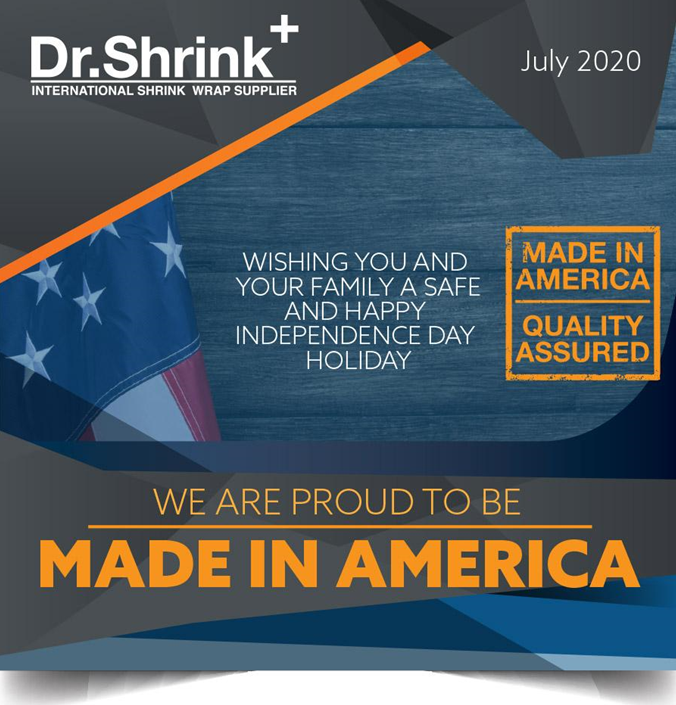 As we look to celebrate the 4th of July holiday weekend, we want to take this time to also celebrate the launch of some new products for this upcoming marine season. The entire team at Dr. Shrink is proud to introduce a few new innovations along with a redesigned favorite among marine and recreational boat shrink wrapping specialists.
In addition, we also want to take this time to give a shout out to all of the Made in America companies as we celebrate the Independence Day holiday. Dr. Shrink has been a proud supplier of Made in America products for 28 years and counting. All of our high quality, Made in America shrink wrap is the backbone of our nearly 80,000 square foot warehouse supplying shrink wrap to 6 continents across the globe. Thank you to all of our fellow American-Made companies out there, along with all of the service men and women for their sacrifices to this incredible place that we call home. I've included some photos (below) that I took over the past month in Manistee, Michigan. It is truly a wonderful and beautiful lake town with views and scenery that never get old.
Be well and stay healthy. As always, please let us know what we can do for you. Have a great Independence Day!
-Mike Stenberg, President & CEO, Dr. Shrink, Inc.

NEW PRODUCT SNEAK PEAK
CELEBRATING 10 YEARS AS A BBB ACCREDITED BUSINESS
4TH OF JULY FEATURE: MANUFACTURED IN THE USA
NEW CLOSEOUT/LIQUIDATION SPECIALS!
As we get ready for the marine season, our R&D team has been working hard on enhancing some of your marine favorites and have a couple new additions to bring to the table for the 2020 season. Here is your exclusive sneak peak at our latest product offerings now available – or soon to be available at Dr. Shrink!
Bottom Caps are designed to fit on the bottom of 2 x 4 boards commonly used as support poles under shrink wrap covers. The Dr. Shrink Bottom Cap has been redesigned into a smaller, more skid proof version with flexible plastic to be easily installed on a 2 x 4 support post. This upgraded quality of material offers less scratching on boat decks and better stability by reducing movement of the support post on the boat deck.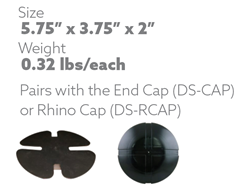 Designed to be used on our premium shrink wrap for a long lasting, permanent bond and offers the strongest adhesion possible.
Provides unmatched adhesive power for the toughest of shrink wrap jobs.
Our strongest adhesive tape
Polyethylene film backing with rubber adhesive
Can be applied in wet/moist conditions
Works excellent on all applications requiring higher bond strength and longer life span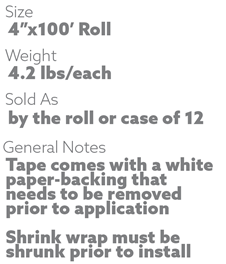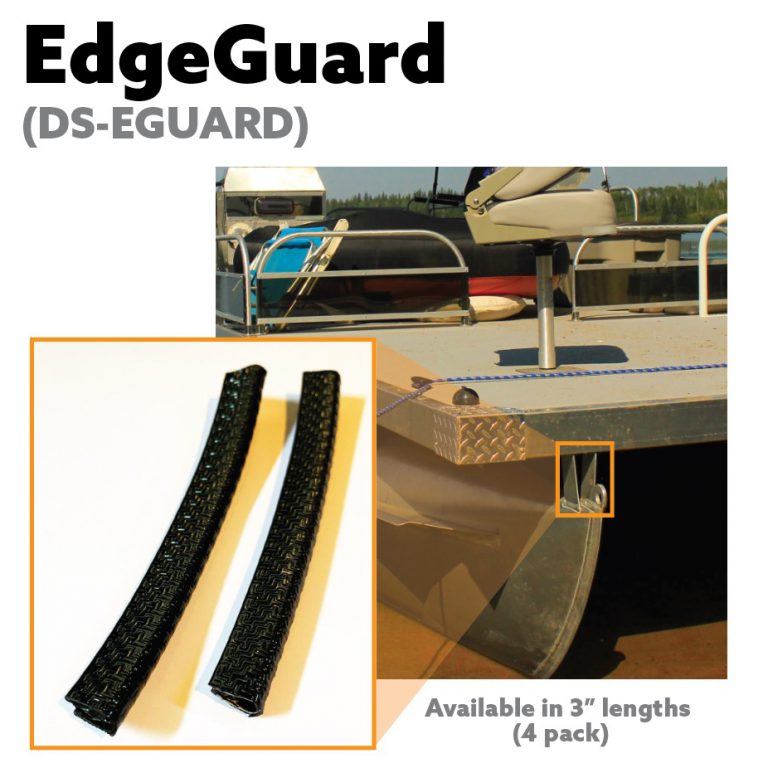 Properly shrink wrapping your pontoon boats for winter storage greatly extends the life of your investment. Dr. Shrink has developed a product that is designed to help make your wrapping easier and stress free. We are proud to announce EdgeGuard to our Dr. Shrink family of strapping accessories. Available in 3″ lengths and sold in a 4-pack, EdgeGuard can be placed on the vertical pontoon supports that connect the deck to your pontoons. These pieces of sheet metal are typically sharp and can easily slice through tightened strapping and shrink wrap. EdgeGuard protects your strapping, so as you tighten your perimeter band, you are not left with sheared strapping along the frontside and backside of your pontoons.
Coming soon and will be available in 3″ lengths – sold in a 4 pack
Reinforced metal core on the EdgeGuard make for easy re-use season after season
Easily cut to desired length with metal snips
Can be used in other applications with sharp corners and protruding metal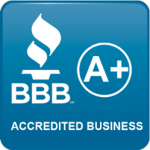 Dr. Shrink is honored to announce we have been an accredited business for 10 years on the Better Business Bureau list. We currently have an A+ rating and continue to strive to surpass our customer's expectations, both with supplying high quality products and excellent customer service!
BBB Accreditation Standards represent standards for business accreditation by BBBs in North America. These standards are based on BBB's determination of the attributes of a better business. They incorporate not only lawful business practices, but also BBB's experience with ethical advertising, selling and customer experiences. For a business to qualify for BBB Accreditation, it must continually meet these standards. Not all businesses qualify for BBB Accreditation and we are proud to say Dr. Shrink does!


Dr. Shrink is proud to be a USA made company with most of our product line being manufactured within the United States. American built quality is what sets Dr. Shrink apart from the rest. We stand behind every roll of shrink wrap and accessory that we sell and guarantee quality after-the-sale service, and on time delivery.
Remember that our American built product line cannot be matched by any other company in the world! Dr. Shrink supplies all products for shrink wrapping. Our one stop shopping is how we operate. Make purchasing simple with the supply of American built shrink wrapping products.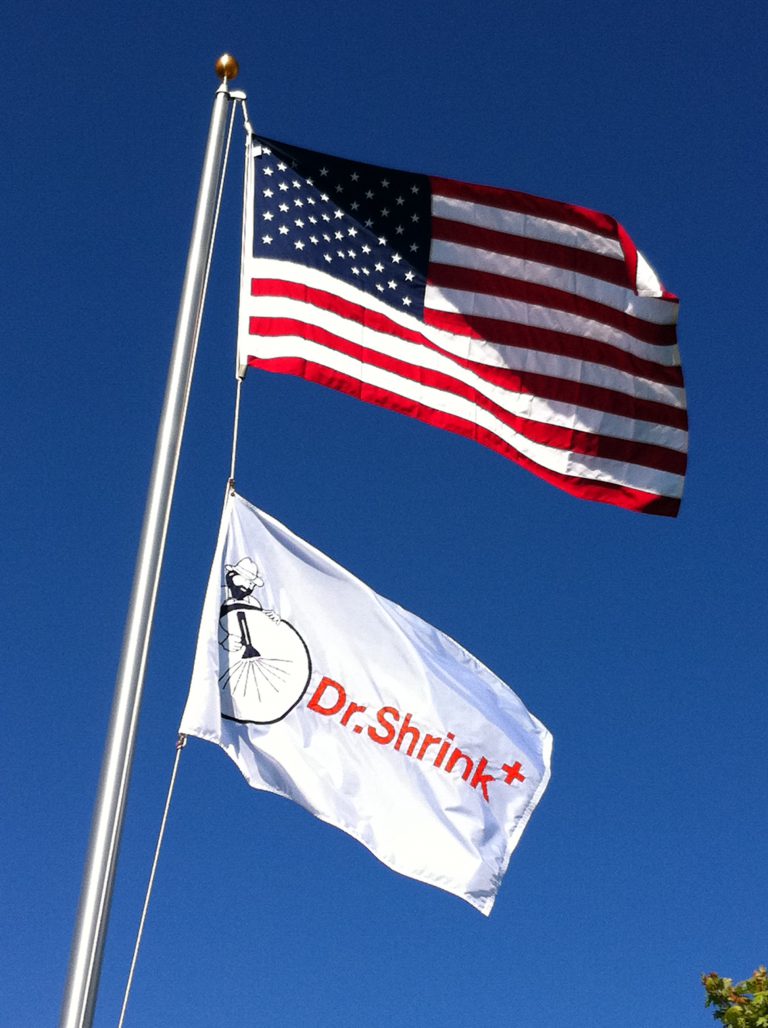 Several models of propane fired heat tools available on closeout, as well as heat tool extensions. Vents are also available for $0.99 each! Select sizes of shrink wrap and pallet bags– all deeply discounted! Don't miss out- first come, first serve.
Take advantage of Weekly Bundles from the Dr.
If you are not currently part of our weekly bundle emails, please feel free to subscribe to our e-list. It's FREE!