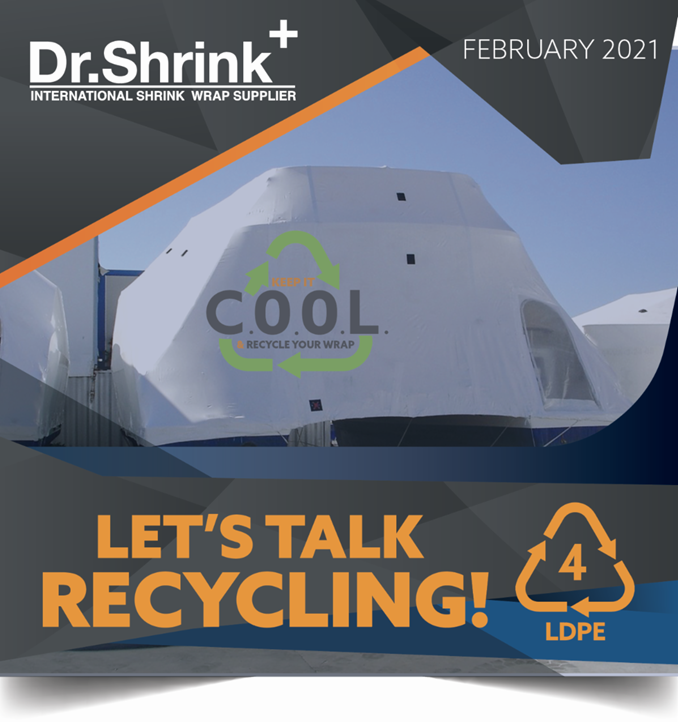 February Notes from Mike.
We hope everyone has had a great start to their new year! As we start looking towards warmer months, we need to think about recycling our used shrink wrap film. With that, all of us here at Dr. Shrink want to remind you to "Keep it C.0.0.L. & Recycle your Wrap." Many of you may or may not know that all of our premium film is 100% Virgin Resin, #4 LDPE, and is accepted at most recycling centers if properly prepared for disposal. This is why we are launching our C.0.0.L. recycling reminder/tagline as an easy way to remember proper shrink wrap disposal for recycling purposes. Keep these points in mind; your wrap needs to be Clean, have Zero accessories (such as strapping, vents, doors, etc. – tape is OK), have Zero moisture (make sure it's dry) and finally, is Loosely packed for disposal — keep it "C.0.0.L." To read our full press release, click here.
By taking the extra 3-5 minutes when you are unwrapping your boat and following our simple steps, you can be part of the recycling solution and keep thousands of pounds of plastic material out of our landfills.
Thank you to all of our incredible customers for being part of our global recycling initiative. If you ever have any questions at all, please feel free to contact me or any member of our world-class customer service team and we are more than happy to help.
-Mike Stenberg, President & CEO, Dr. Shrink, Inc.

THINK SPRING – THINK "C.0.0.L" RECYCLING
ATTENTION ALL SHRINK WRAP INSTALLERS!
VERSITI BLOOD DRIVE A SUCCESS
VIDEO HIGHLIGHT – DON'T TRASH YOUR SHRINK WRAP
SEVERAL CLOSEOUT ITEMS AVAILABLE ONLINE

Recycle Your Used Shrink Wrap!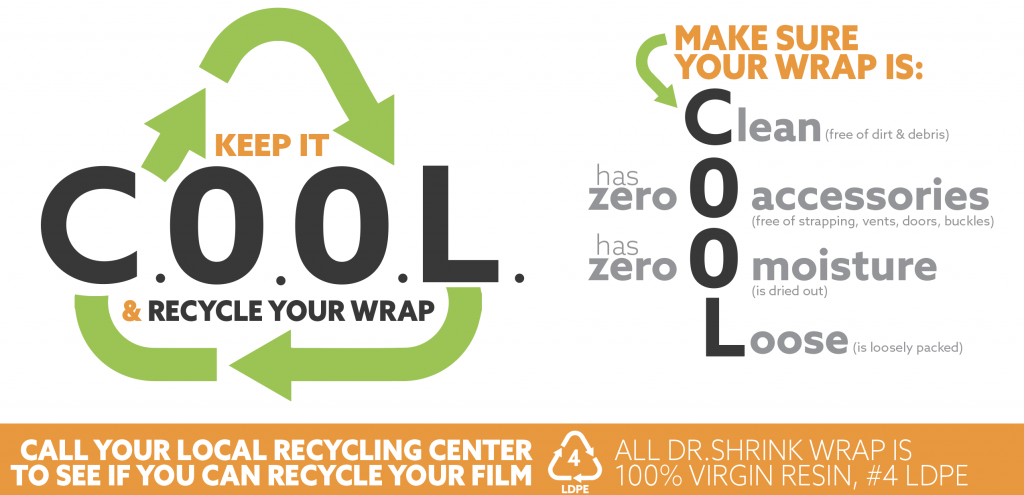 Dr. Shrink is one of the largest suppliers of shrink wrap across the globe, and while offering premium and high-quality products, recycling of used shrink wrap continues to be a top priority for us.
"Taking care of our environment that we, as boat owners and outdoor recreation enthusiasts, all enjoy, should be a top priority," says Mike Stenberg, President & Founder of Dr. Shrink, Inc. "With a little bit of effort and education, we can all do our part and recycle our old, used shrink wrap for free or very little cost."
All of Dr. Shrink's film is 100% virgin resin made of #4 Low Density Polyethylene (LDPE). This is one of the most common plastic materials available, and its recycled contents is frequently used in plastic lumber, construction sheeting, and garbage bags. Many boat owners think of our shrink wrap as a "plastic bag" which is not commonly recycled at your local recycling center, however, our material is different.
To start, pick up the phone and contact your local recycling center and ask them if they will accept "#4 LDPE plastic sheeting". Some locations may require you to provide documentation, and Dr. Shrink is happy to help; you can access specification documents online at: dr-shrink.com/recycling, or you can email us at: recycle@dr-shrink.com and we will be more than happy to assist. From there, remember to: Keep it C.0.0.L. To ensure your wrap is accepted at the local recycling center, be sure it is clean, has zero accessories (such as strapping, buckles, vents, or zipper doors), has zero moisture and is dry, and finally, is loosely packed for easily handling and sorting when it arrives at the local recycling center.
Recycling and environmental stewardship is not a new concept to Dr. Shrink, we have pioneered a number of recycling programs throughout the country.
"We have created a comprehensive recycling program in our home State of Michigan, and its 20+ years of success is one of our proudest accomplishments as a company." says Stenberg, "Our goal each and every year is to continue to build upon our program, and this year, we are hoping to expand our efforts across the entire country."
Dr. Shrink currently partners with the Michigan Recycling Coalition (MRC) and Bay Area Recycling for Charities (BARC) to keep used shrink wrap out of area landfills each and every year with their Recycling Run program.
If you are a marina owner, or a boat owner, and are interested in learning more about recycling, reach out to Dr. Shrink who can assist you.

Calling All Shrink Wrap Professional Installers!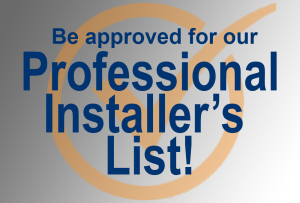 We always have several people across the nation calling Dr. Shrink and asking for shrink wrap services or installers in their area — are you a shrink wrap installation business who would like to be included on our "Professional Shrink Wrap Installers" list? Please fill out the form by clicking the link. Once approved, we will add your company to our Professional Shrink Wrap Installer's list and refer customers to you!
Versiti Blood Drive at Dr. Shrink Another Success!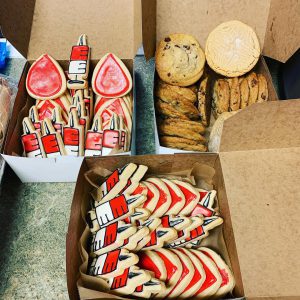 Thank you to everyone who donated at our most recent blood drive on January 12th. Many from the community showed up and we ended the day with 20 donations!! We will be having the Versiti Blood Bus back again for another blood drive on May 20th (time TBD).
A special thank you to our local restaurant Two Slices for the fresh sandwiches and adorable cookies to keep everyone's strength up!

Take advantage of Weekly Bundles from the Dr.
If you are not currently part of our weekly bundle emails, please feel free to subscribe to our e-list. It's FREE!