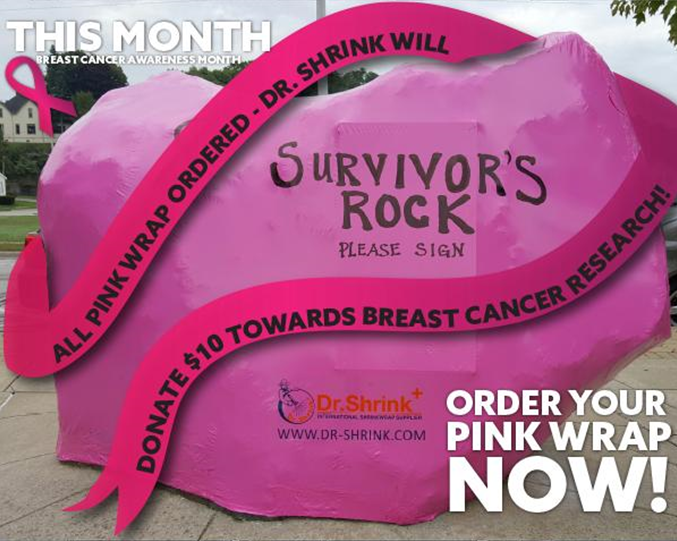 Fall is here! As we welcome fall and October, I would like to share a special promotion we have for this month. We have several rolls of our 17'x110′ 7-mil PINK shrink wrap available– in support of Breast Cancer Awareness month, Dr. Shrink will be donating $10 from every roll that is purchased to local organizations in Manistee County going towards breast cancer research. Let's all show how we, in the shrink wrap industry, can showcase and raise awareness for Breast Cancer Research from all corners of the globe by using PINK from Dr. Shrink!
As communicated last month, the winterization industry is currently experiencing longer than normal manufacturing and delivery times. If you are on our website and you see that we have low stock or a "call to order" note, please give us a call, and we will provide you with suitable in-stock alternatives so we can ship your order next-day! We have several alternative sizes, colors, and/or mil thicknesses in stock that should work well for you as a substitute or alternative. We continue to get full truckloads of material in every day and we are making sure you get what you need as fast as possible.
Thank you to all of our incredible customers! Be well and stay healthy. As always, please let us know what we can do for you and thank you for working with us. Enjoy the beautiful fall season and have a Happy Halloween at the end of this month.
-Mike Stenberg, President & CEO, Dr. Shrink, Inc.

10% OFF SHRINK WRAP ONLINE – UNTIL OCT. 15, 2021- WE EXTENDED THE DEADLINE! (DISCOUNT ONLY VALID ON RETAIL AND BUSINESS TIER PRICING)
"WRAP FOR A CAUSE" BREAST CANCER AWARENESS PROMOTION
NEW VIDEO! EXPLANATION OF SHRINK WRAP COLOR DIFFERENCES
BROWSE OUR ELECTRONIC CATALOG!
NEED A TRAINING REFRESHER ON WRAPPING BOATS? WE'VE GOT YOU COVERED WITH OUR TRAINING VIDEOS!
CLOSEOUT DEALS- 12′ x 152′ 7-MIL BLUE ADDED

We have extended our fall discount! 10% off shrink wrap online until October 15th, 2021 if you use promo code DREXTEND at online checkout.
**Offer is only valid on standard Retail and Business tier pricing. Offer is available online only**
Are you with a business? You could qualify for Preferred Pricing on our website! Fill out our Preferred Pricing Request Form online or give us a call. Already a customer of ours and want your preferred pricing available online? E-mail us!
Show your love with PINK from Dr. Shrink!
Dr. Shrink is raising awareness for breast cancer research. For the entire month of October, Dr. Shrink hopes to sell plenty of their 17'x110' 7-mil Pink shrink wrap and will donate $10.00 of every roll sold to benefit local organizations raising funds for breast cancer research.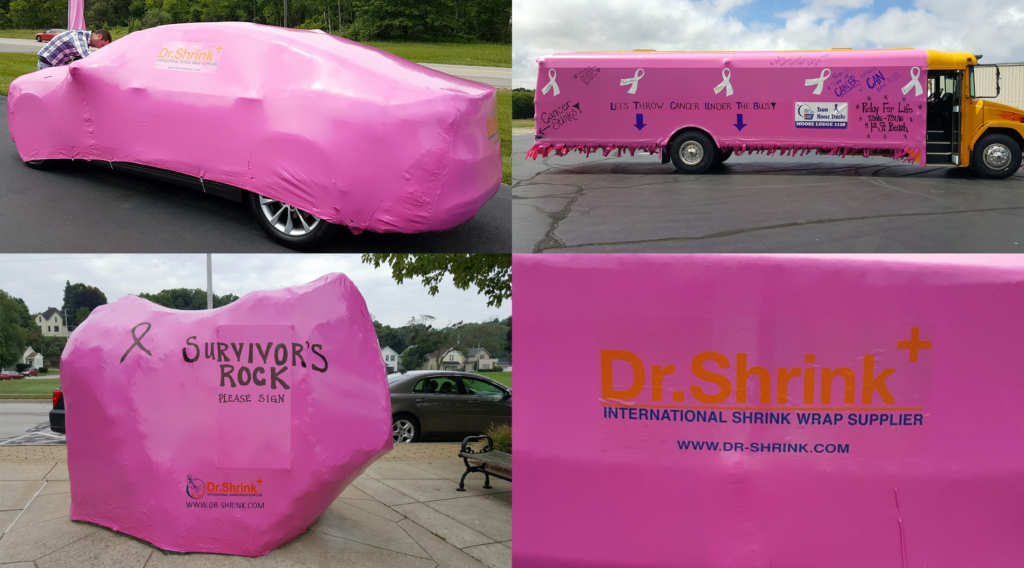 EXPLANATION OF COLOR DIFFERENCES FOR OUR PREMIUM SHRINK WRAP MATERIAL
Shrink wrap comes in blue, white, and clear. Are you in a northern state with heavy snow load and you've noticed blue shrink wrap is prevalent for winter storage? There's a reason for that!
Each color serves its own purpose and is designed to be used for different applications. Check out our video for a quick explanation of when to use blue, white, or clear shrink wrap. More quick videos coming your way soon- stay tuned!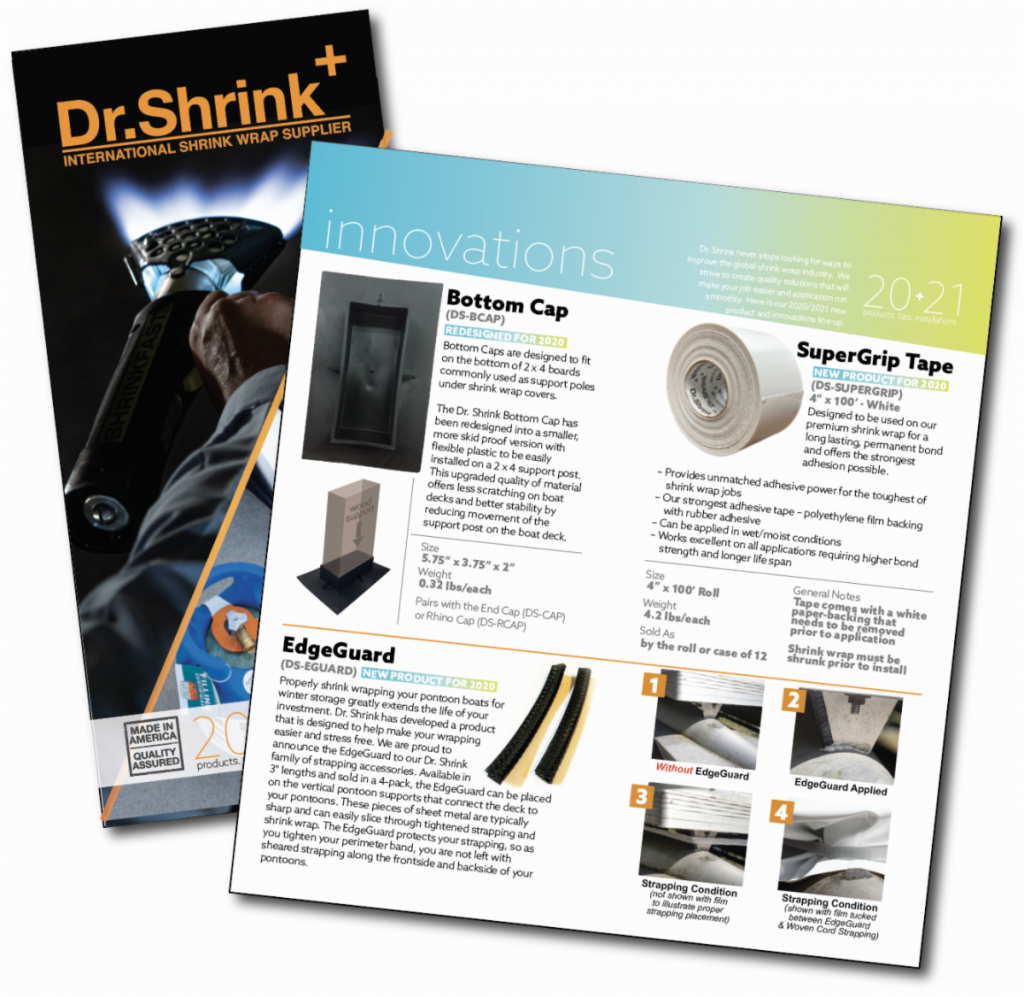 Get all of Dr. Shrink's product information and descriptions right at your fingertips with our Electronic Catalog!
Browse through our product catalog, complete with new products and innovations along with product tips and resources. View it online now, or give us a call to request a catalog and we will mail it to your door!
It's prime time for shrink wrapping boats for storage. Need a training refresher?
Our most popular Marine/Rec/DIY training videos include:
Need a refresher on shrink wrapping your recreational boat? We have you covered with this quick 8-minute tutorial. Complete with diagrams and how-to instruction.
If you have covered a recreational boat, a pontoon is similar, but with a few small differences. We take you through each of these points along with some insider tips.
Sailboats with their masts up are a whole new game when it comes to seasonal storage. Here we take you through all of the main points along with some key, time-saving tips along the way.
Campers are similar to other square objects, but a few differences include the strapping structure and best practices for securing for the duration of your storage season.

5 years ago one of our distributors, Rhino Shrink Wrap, wrapped this 1972 Czech Jet Fighter Fusel Section. Rhino Shrink Wrap recently spoke to the pilot and the Dr. Shrink material used is still standing strong after 5 years no problem. Great work Rhino Shrink Wrap and thank you for sharing the photos!