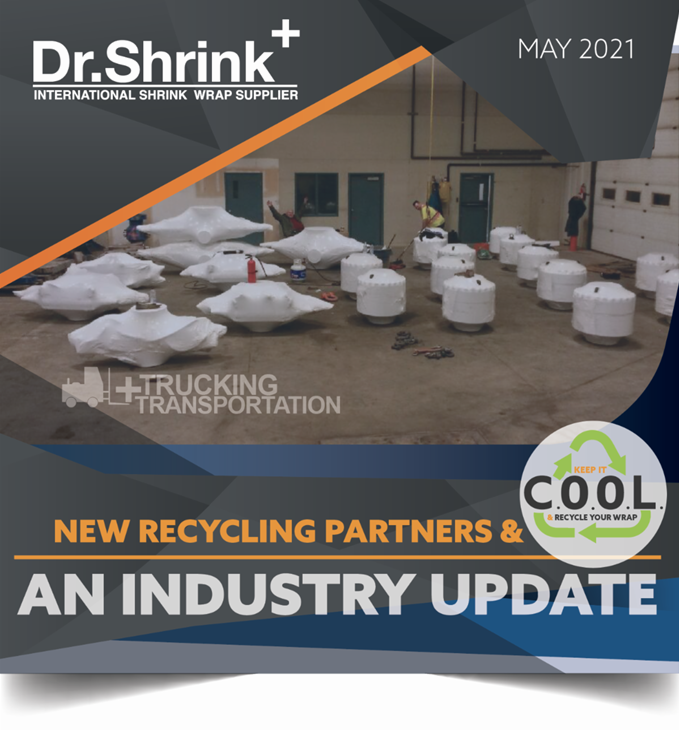 May Notes from Mike.
First of all, I would like to extend a heartfelt thank you to everyone who wished Dr. Shrink a happy company anniversary– 29 years in business would not have been possible without all of you and your support over the years. Thank you all for working with us and trusting us to be your valued shrink wrap supplier.
As the weather warms up and more marine boat covers come off, we are thrilled to announce that our C.0.0.L. Recycling Program is taking off! Taking care of our environment that many of us as boat owners and outdoor recreational enthusiasts all enjoy, should be a top priority, and new recycling partners have emerged that we are excited about. I want to give a shout out to the Clean Ocean Access (COA), a New England-based non-profit, who is working hard at promoting shrink wrap recycling around the New England area, and this year expanding into Nantucket as well. In addition, we are pleased to announce an international partner, Switch Energy Corporation, out of Ontario, Canada. Their program will allow recycling throughout much of Ontario! Thank you to these incredible recycling partners and we hope to have a long working relationship together.
Hope everyone has a great month of May, and to all the Moms out there, I wish you a very happy and enjoyable Mother's Day on Sunday. I would like to give an especially warm Mother's Day wish to our Dr. Shrink Moms: Ashley, Angela, and Pam!
-Mike Stenberg, President & CEO, Dr. Shrink, Inc.

INSIDE MAY
NEW RECYCLING PARTNERS
RESIN IS ON THE RISE & AN INDUSTRY UPDATE
HIGHLIGHTING TRUCKING & TRANSPORTATION
DR. SHRINK BLOOD DRIVE (MANISTEE) – MAY 20TH
CLOSEOUT DEALS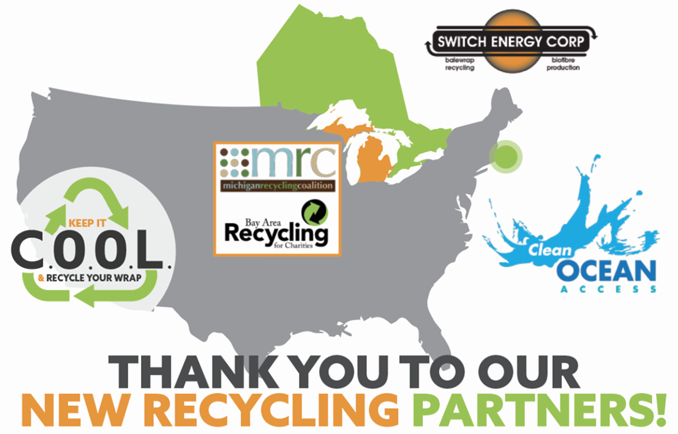 Learn how to recycle your shrink wrap if you are these new partner areas!
Are you located in Ontario, Canada with shrink wrap to recycle? You may be able to participate with Switch Energy Corp. and their new shrink wrap recycling program. Learn more about this here!
Are you in the Nantucket area or in the Southeastern part of New England? You may be able to participate with Clean Ocean Access and their shrink wrap recycling program with their New Jersey based recycling partners at TerraCycle. Learn more about this here!
Not sure if you have a recycling provider in your area? Contact your nearest recycling center and let them know you have used shrink wrap to recycle – you can follow our easy step-by-step instructions here!
Do you know of any recycling facilities that accept shrink wrap, or know of other programs that collect used shrink wrap for recycling? Let us know! We are looking for partnerships to cover each state!


Why resin prices have been on the rise and the other industries getting hit….
We have all been feeling the increase in resin prices, and as we have been looking to our other industry colleagues and partners, we have taken notice this is not just the shrink wrap industry, all industries are getting hit from all angles.
The February "Mega-Freeze" that hit Texas really disrupted the production of resin, which is not just a key component in polyethylene, but also construction and other manufacturing materials. In looking into construction here in our home state of Michigan, we reference this article published by Capital News Service, with information from the Michigan Home Builders Association.
According to Robert Filka, the CEO of the Home Builders Association of Michigan, the effects of the shortage adversely impact many aspects of construction.
"The shortage of resin has caused shortages for all kinds of different products — everything from plumbing materials and all other materials that go into a house," Filka said. "We are seeing incredible shortages and delays in products that have resin in them."
Shortages make it difficult to estimate what the final cost of a home will be, Filka said, "because literally from the time they sign a contract to the time a builder might start building, prices have been increasing by thousands and thousands of dollars, depending on the size of the project."
Additionally, construction prices are rising because of lumber shortages. "COVID has put some impact on production," Filka said. "You've also got factories and mills having to operate under COVID restrictions so they can't produce as much as they used to, yet demand for wood and building materials has skyrocketed since the pandemic."
The cost of rubber prices are also going up across the board; higher prices for rubber are a direct result of a supply shortage. Rubber prices reached a four-year high in February, according to Bloomberg data.
As most of you are already aware, we have experienced several price increases on our shrink wrap since August 2020 due to the increasing cost of resins.
Dr. Shrink is committed to keeping the impact to our customers as low as possible, and with that, we assure you that we are passing along only the exact increase on raw material as it is received. There are no additional production costs or other fees impacting these increases.
These resin/raw material increases are market-wide and non-negotiable; no manufacturers, distributors, or customers are exempt from them. We assure you our pricing is just as competitive today as it was early last year, in the current market.
As a valued customer, we take the utmost care in offering you the best possible price on the highest quality product to ensure continued success in your business ventures. We can send you an outlined detailed list of increases we've incurred since August of 2020 if you wish, feel free to request that any time.
We appreciate your continued patronage and look forward to serving you as your business continues to flourish.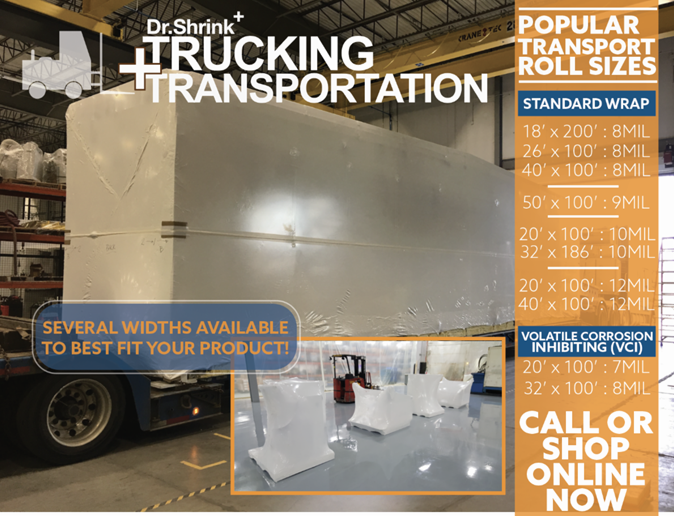 Trucking & Transportation HIGH DEMAND – Get in on the action!
It shouldn't come as a surprise to anyone that the last year has increased trucking and transportation demands based on a global shift to online purchases – well in the industrial sector, demand continues to SOAR as home improvement projects and manufacturing companies are now trying to make up for lost time. With that, it's a perfect time for shrink wrap installers to get in on the action as manufacturing sectors are looking for shrink wrap experts to wrap their projects for transportation.
Check out our featured video below on how to fully encapsulate an object for material transportation – and as always, if you have any questions about this industry or need assistance in anyway, contact our world class customer service team!
Not sure which size shrink wrap you need for your particular object or piece of equipment? Fill out our quick and easy "What Size Shrink Wrap Do I Need?" form and upload a few pictures– we will be in touch with the best size shrink wrap for your specific job!
Please consider signing up for our upcoming blood drive on 5/20/21 from 9am-2pm on the Versiti Blood Center of Michigan bus in Dr. Shrink's parking lot (Manistee). We will have freshly baked cookies from Two Slices for anyone who donates or attempts to donate. We are only a few donors away from having a full schedule! Please sign up to donate here, and if our schedule is already full by the time you read this, then please consider a donation to a local blood bank near you!
Keep in mind, Dr. Shrink will be hosting another blood drive July 15th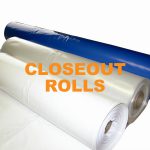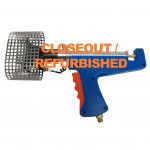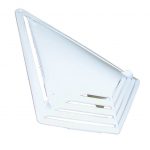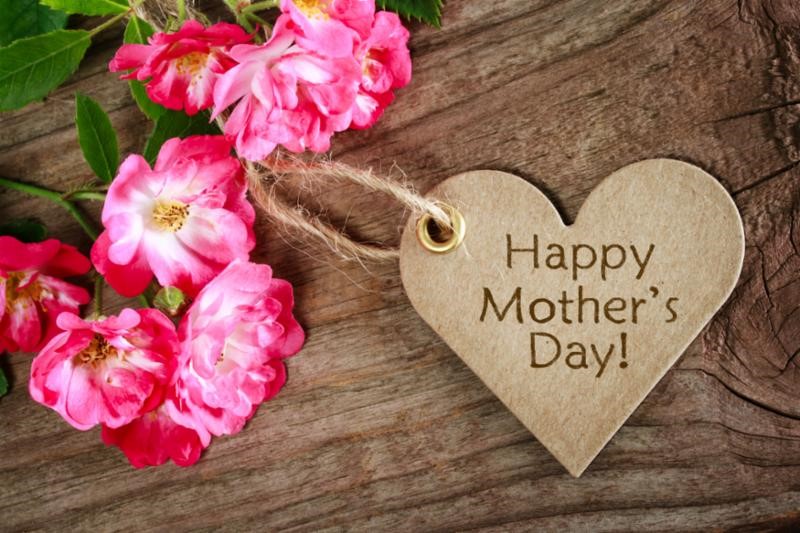 Wishing all of the Moms in the Dr. Shrink family and beyond a very happy Mother's Day on Sunday!