December Notes from Mike.
Hello everyone! The Christmas season is upon us and Dr. Shrink, Inc. is looking forward to our annual holiday party with our team members next Friday. We are also planning a visit from Santa for all our little Dr. Shrinkers the following Friday! Tis the season.. and we are sure enjoying the festivities!
As 2022 comes to an end and we conclude our 30th year in business, I am humbled by the amount of customers, distributors, and friends who have sent warm wishes and support. We would not be here today if it wasn't for all of you. I hope we have surpassed your expectations in both customer service and supplying the highest quality shrink wrap materials in the market.
On behalf of all of us here at Dr. Shrink, I wish you, your family and friends well and I hope you have a very happy holiday season. Thank you for working with us!
Warmest Regards,
-Mike Stenberg, President & CEO, Dr. Shrink, Inc.

KEEP YOUR HEAT TOOL READY — CLEAN, REPAIR, REBUILD…
HAVE A JOB THAT CALLS FOR FLAME RETARDANT MATERIAL? WE'VE GOT YOU COVERED WITH SEVERAL SIZES!
INFO ON SHRINK WRAP SIZING, WORLDWIDE DISTRIBUTION, AND HOW-TO TRAINING & RESOURCES
WANT FREE PRODUCTS? TAKE ADVANTAGE OF OUR WEEKLY BUNDLE PROMOTIONS! YOU GET A FREE PRODUCT EVERY WEEK WITH A CERTAIN ORDER VALUE! DETAILS BELOW.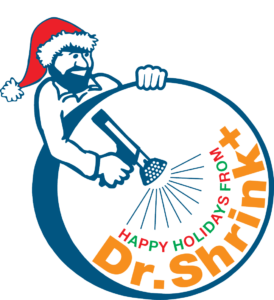 Did You Know?
Dr. Shrink offers complete service, repair, and/or rebuild for any heat tool sold by Dr. Shrink. We are sure you've had an intense and busy marine season, so before you pack up your heat tools or before you prepare for your next seasonal wrapping projects, make sure your heat tool is in peak working condition!
Contact us today to get started and learn more about our heat tool repair options.
If you are familiar with the parts and pieces of your Shrinkfast 998, we teamed up with Shrinkfast to bring you this easy to follow, step-by-step set of instructions on how to rebuild your 998 to "like new" condition. Purchase our rebuild kit here, and watch the video here to learn more!
Have a job that calls for Flame Retardant Shrink Wrap? We've got you covered!
Take advantage of weekly FREE items from the Dr. If you are not currently part of our weekly bundle email notification list, please subscribe to our e-list to see how you can get the free item every week. It's FREE — don't miss out!