August Notes from Mike.
As we prepare for the busy marine recreation season, I would like to say THANK YOU to all of our incredible customers for supporting us and the shrink wrap industry through one of the most complex years on record.
I would like to personally extend my deepest appreciation for your continued support, one-on-one conversations, Zoom calls, emails, and social media messages over the past year and a half. I truly believe that we will all emerge from this stronger than ever before, thanks to your dedication to the industry and your perseverance in the shrink wrap industry. Cheers to a great fall season and a bright year ahead.
-Mike Stenberg, President & CEO, Dr. Shrink, Inc.

HURRICANE SEASON IS HERE – SHRINK WRAP FOR DISASTER RESTORATION AND ROOF REPAIR
2021 FALL MAILERS! 10% OFF SHRINK WRAP ONLINE (DISCOUNT ONLY VALID ON STANDARD RETAIL AND BUSINESS TIER PRICING)
STOCK UP ON INSTALLATION ACCESSORIES- NO MINIMUMS!
DO-IT-YOURSELF SHRINK WRAP KIT
QUICK 8-MINUTE HOW-TO VIDEO FOR WRAPPING A REC BOAT
CLOSEOUT DEALS

Hurricane season is here and Dr. Shrink is here for you!
Dr. Shrink offers a complete line of shrink wrapping products used to protect and/or compartmentalize structures after natural disasters (such as hurricanes) or while remediation/disaster restoration work is being done. We're stocked with wide and thick shrink wrap to perfectly match your needs during this hurricane season.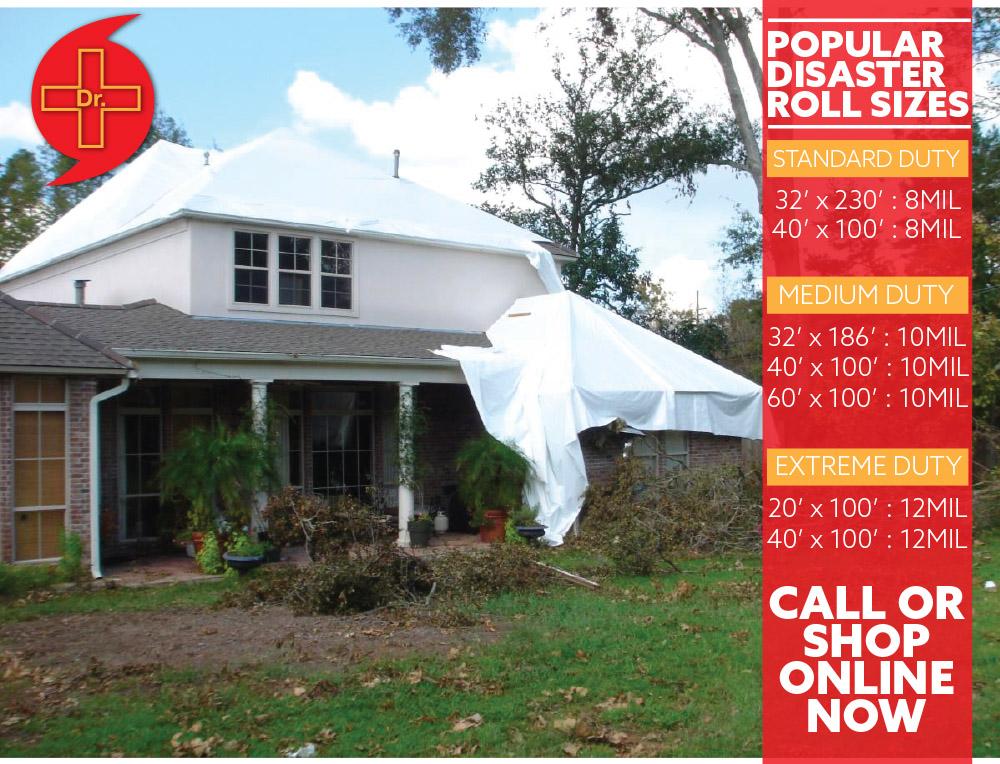 Roof repair shouldn't be tricky.
Dr. Shrink can help you learn how to cover a roof; if you've ever wondered about an alternative to a tarp on your roofing project then you're in the right place. Replace your tarps, which break down over time, with shrink wrap by simply fastening it to your roof and shrinking it with a propane fired heat tool. Dr. Shrink's shrink wrap has a warranty and can be fit to any roof.
The Dr. Shrink Advantage:
Saves time and money
Premium shrink wrap up to 60′ wide and 12-mil thick
Sleek, waterproof, durable protection
100% virgin resin material with maximum UV inhibitors for long-term use
Our specialty Flame Retardant shrink wrap meets or exceeds all NFPA 701 specifications
Shrink wrap can be applied in the same way as a tarp and offers a wide variety of benefits over products that aren't able to be custom fit.
Shrinking and welding shrink wrap together offers superior weather protection in every environment
Dr. Shrink's high quality material is more durable than a tarp, which lends to a longer lasting cover.
All of our shrink wrap has UV inhibitors to protect it from UV breakdown
Consistent results for a clean, professional look on every project
Identifying what you need to cover is easy and so is applying it when you have Dr. Shrink's experienced training staff helping you. Give us a call with questions or fill out our quick form and we will be in touch!

Don't miss out on our fall special discount on shrink wrap! 10% off shrink wrap online until September 15th, 2021 if you use promo code DRFALL at online checkout.
**Offer is only valid on standard Retail and Business tier pricing. Offer is available online only**
Are you with a business? You could qualify for Preferred Pricing on our website! Fill out our Preferred Pricing Request Form online. Your request will be received and review by the Dr. Shrink team quickly, and once approved you will receive a confirmation email and your online account will be granted business pricing.
Benefits of online ordering with Dr. Shrink account include:
Customers can ship on their own shipping accounts (FedEx, UPS, LTL Freight Carriers)
Customers can checkout with their Net 30 terms (if applicable)
All orders are saved to your account for easy referencing
Shipping/billing addresses are saved to your account for faster checkout
Payment methods are saved securely to your account
·    Online customers will be offered exclusive deals, discounts, and promos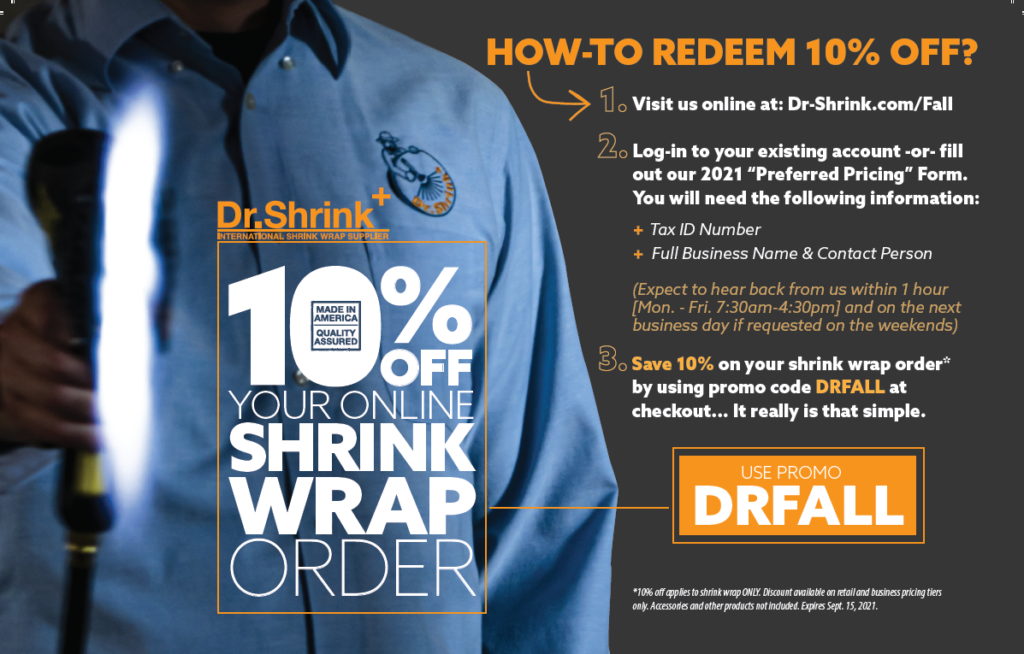 Accessories are key for every shrink wrap job.
Order one, or a dozen, or more! We have no minimum order quantities on our accessories. Stock up today!
Buy a single item, individually, or buy an entire case! 
Order items in a flash by using our Quick Order tool on our website!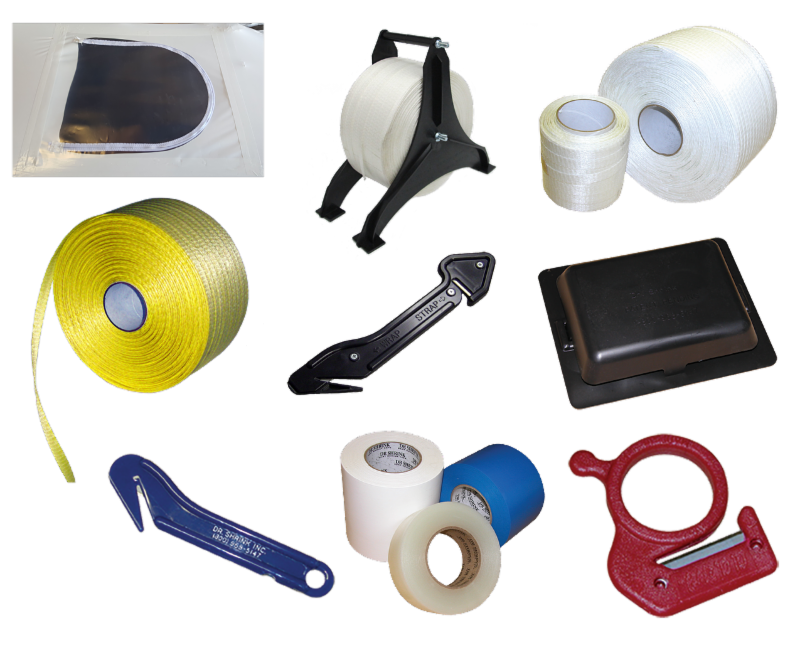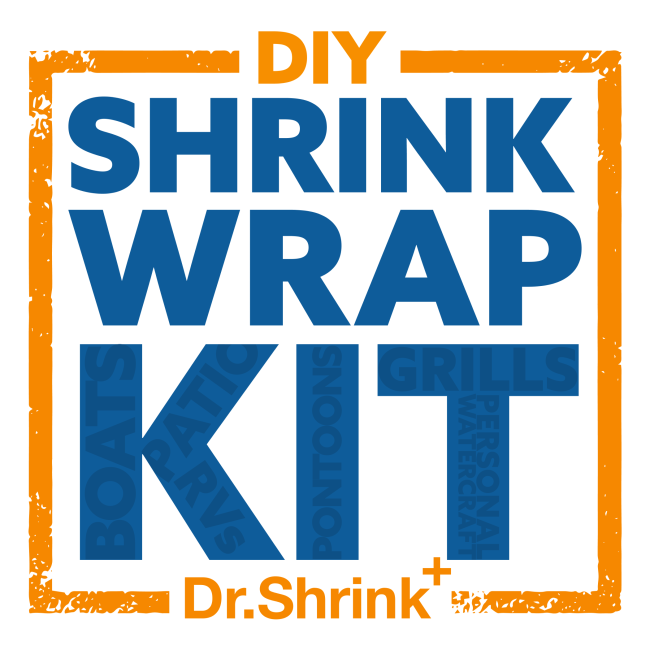 Regardless of the application, protect your assets using our complete DIY Shrink Wrap Kit. Our DIY Shrink Wrap Kit is designed for standard runabouts without wakeboard towers up to 24′ and pontoons up to 24′ with up to an 8' beam. Also great for yard and garden equipment, and patio and deck furniture.
The DS-SWKIT is nicely packaged all in one box (save on shipping!) with the exception of the heat tool; the heat tool needs to be purchased separately.
The following items are included in the DIY Shrink Wrap Kit:
(1) Roll of 17' x 31' white, 7-mil shrink wrap
(1) Roll of 2" x 180' white Heat Shrink Tape
(1) Roll of 3/4" x 300' Woven Cord Strapping
(3) End Caps for support posts
(6) Individual 3/4" buckles
(1) Ring Cutter to cut strapping
(1) Disposable Film Knife to cut shrink wrap
(4)Weather-Tight Self-Adhesive Vents
Training is obtainable by video, written instructions, and our customer service line (800-968-5147). Get wrapping today! Click on the below flyer to enlarge.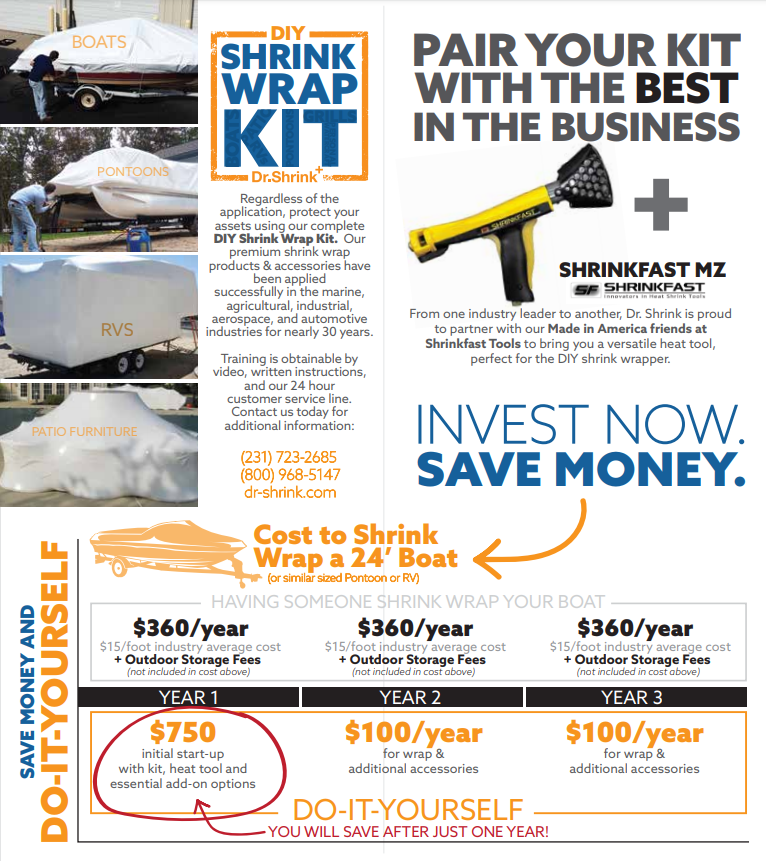 Dr. Shrink Traveled to Traverse City, MI for a Pit Spitters Baseball Game!
Our team had a great time at the ball game on July 16th. Hope everyone is taking the time to get out and enjoy this fantastic summer weather.
This quick how-to video shows you how to shrink wrap your boat for storage. Dr. Shrink, Inc. supplies premium, 100% virgin resin shrink wrap in widths of 12 to 60 feet in a variety of lengths and mil thicknesses. 6 and 7-mil shrink wrap is recommended for boat storage. Dr. Shrink also supplies a complete line of installation accessories– everything you need to complete your shrink wrap job from start to finish.