August Notes from Mike.
Happy August! As we head into the busy fall shrink wrap season, it might be a good idea to visit our online How-To / Training Section for quick reference guides and short videos on boat wrapping. Also, just a reminder to take advantage of the convenience of placing your orders on our website. You have the option of shipping on your own shipping accounts, checking out with your NET 30 terms, viewing past online orders, and payment methods can be securely saved to your account.
Our warehouse racks are stocked and we are ready to ship! If you are in Michigan and usually come to our location to pick up your orders, please make sure you read the section below on changes for customer pickups this year due to COVID-19.
Be well and stay healthy. As always, please let us know what we can do for you. Thank you for working with us.
-Mike Stenberg, President & CEO, Dr. Shrink, Inc.

INSIDE THE MONTH OF AUGUST
BRIGHTMARK PILOTS RECYCLING PROGRAM IN INDIANA
CUSTOMER PICKUP REQUIREMENTS – CHANGES FOR 2020
10% OFF EARY BUY DISCOUNT!
EARLY HEAT TOOL REPAIR DISCOUNT
SHRINK WRAP A BOAT FOR STORAGE VIDEO
Brightmark Pilots Recycling Program in Indiana
California-based Brightmark Energy has completed a pilot program for boat shrink wrap collection with a marine services dealer located near the company's plastics-to-fuel plant in the Steuben County town of Ashley, Indiana. Brightmark says the project, supported by the Northeast Indiana Solid Waste Management District, aimed to divert the boat shrink wrap taken from boats in winter storage from going into the waste stream.
The company says that it can create a second use for the old shrink wrap by turning it into a fuel source for local vehicles and powerboats instead of it ending up in a landfill. With more than 11 million boats registered in the U.S., many of them need to be shrink wrapped in the winter months. With that amount of shrink wrap removed and then recycled properly, it would equal nearly 21,000 barrels of renewable fuel.
Dr. Shrink supplies the REBAG Recycling Kit, which is available to all customers throughout the continental United States, in addition to our annual Recycling Run throughout the state of Michigan. Thank you to everyone who properly recycles your shrink wrap covers every season. You are making a difference and we appreciate your effort to keep this material out of the landfill.

Due to COVID restrictions and keeping our employees and customers safe, there have been changes made to our Customer Pick-Up process. Absolutely no customers are currently allowed inside of our building or warehouse at any time, for any reason. We are still allowing customers to drive-up to pick up their orders. Customer pick-ups and 'will-call' orders will be allowed only if the following rules can be met:
All orders are called in advance and prepaid. Orders must be paid in advance via credit card or mailed check. No cash payment accepted on site.
Customers must remain in their vehicle at all times.
Customers will call upon arrival and let Dr. Shrink know what name they are picking up under.
Dr. Shrink staff will load the material if:
The vehicle has a separate trunk, truck bed, or SUV rear gate.
The vehicle has ample space to load.
The space is cleared for the material prior to loading.
Dr. Shrink staff will not load the material if:
There is insufficient space.
The space is not cleared.
The customer wants the product in the back/front seats of the vehicle
Customers are welcome to load their own material if they are physically able. Please make sure you reference the weight and dimensions of your shrink wrap rolls and other items to be able to accommodate your pick-up. Thank you for your understanding!

Dr. Shrink has just completed mailing out our fall packets with new product information and online discount codes!
Don't miss out on our fall special discount on ALL shrink wrap! 10% off shrink wrap online until September 15th, 2020 if you use promo code FALL20 at online checkout. *Offer is only valid on standard wholesale and retail pricing.*
*Offer is available online only*
Are you with a business? You could qualify for wholesale/business pricing on our website! Fill out our Business Price Request Form online. Your request will be received and review by the Dr. Shrink team quickly, and once approved you will receive a confirmation email and your online account will be granted business pricing.
Benefits of online ordering with Dr. Shrink account include:
Customers can ship on their own shipping accounts (FedEx, UPS, LTL Freight Carriers)
Customers can checkout with their Net 30 terms (if applicable)
All orders are saved to your account for easy referencing
Shipping/billing addresses are saved to your account for faster checkout
Payment methods are saved securely to your account
Online customers will be offered exclusive deals, discounts, and promos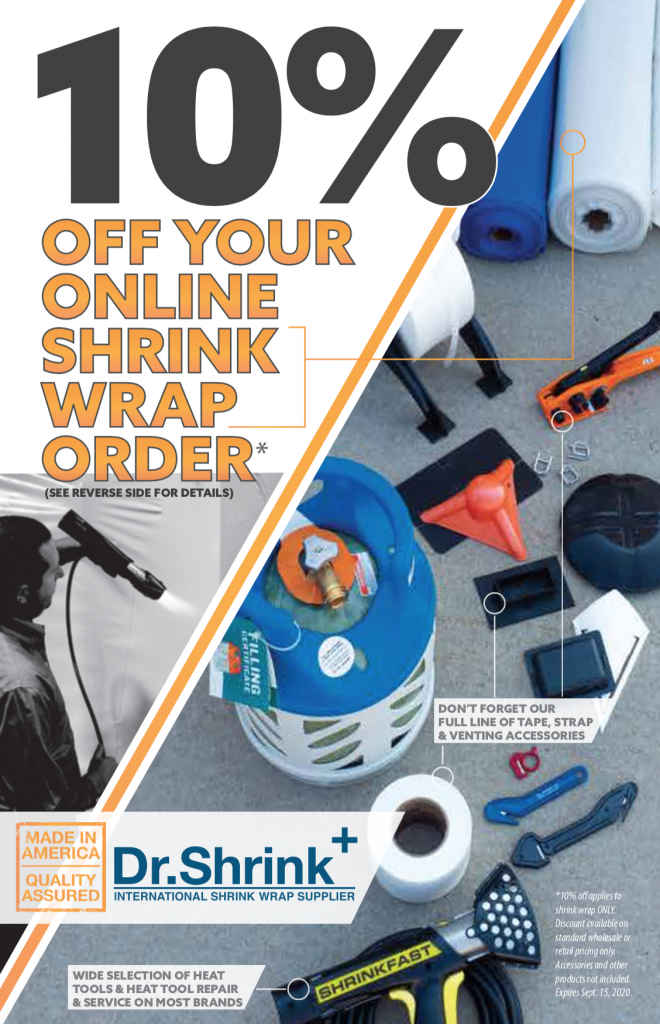 Whether you need a single part, or a complete rebuild kit, Dr. Shrink has the repair parts you need to keep your heat tool in prime working condition. If you are in need of having your heat tool repaired, Dr. Shrink has a Heat Tool Technician on staff that can diagnose your heat tool's problem and get it back up and running. Want to troubleshoot your heat tool issue over the phone or email and try to fix it yourself? Our Heat Tool Technician can answer all of your questions.
Need some incentive? Take 10% off all heat tool repair parts until September 15th, 2020 as long as you mention this promotion over the phone or use REPAIR10 at online checkout.
Learn from the professionals at Dr. Shrink on how to shrink wrap your recreational boat or pontoon boat for storage. Already a pro at wrapping boats? These videos have some great tips and are excellent refreshers for the fall season!
Take advantage of Weekly Bundles from the Dr.
If you are not currently part of our weekly bundle emails, please feel free to subscribe to our e-list. It's FREE!