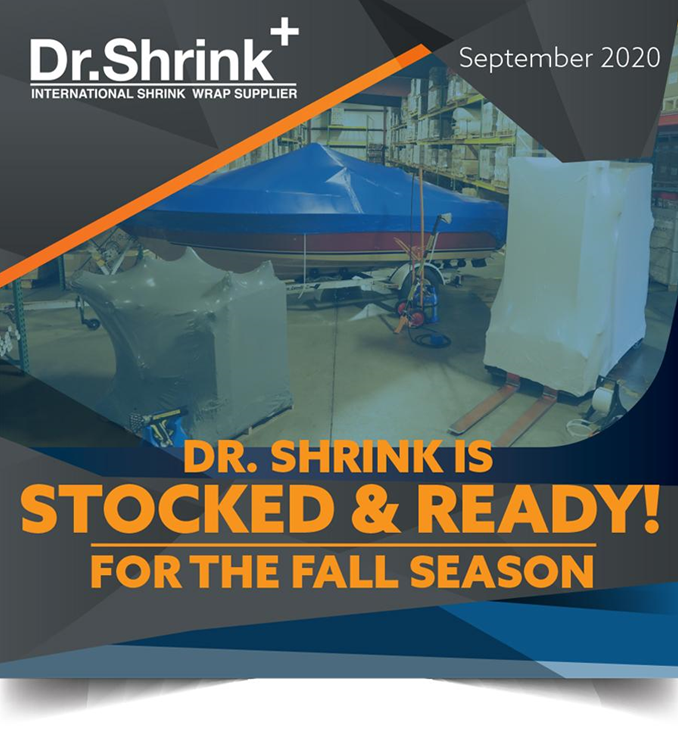 September Notes from Mike.
As we flip the calendar over into September, many of us in the shrink wrap marine industry are gearing up for what is forecasting to be a busy season. The new boat sales market saw a big jump up to the tune of around 35%-40% this year, and this could be a good sign for all of you marine suppliers and shrink wrap installer companies.
I would like to remind all of our customers to reference your fall mailing promotion, which will save you 10% on your online shrink wrap orders. Just use FALL20 at checkout and your discount will be applied to all shrink wrap on your order (excludes accessories). This promotion is available to our wholesale and retail customers. This could also be a great time for you to sign up for our business pricing if you haven't already. You can do that here: dr-shrink.com/fall.
We have been stocking up and our warehouse and crew are READY for your seasonal fall orders. Contact one of our world class customer service reps today or use our user-friendly website for all of your shrink wrap ordering: dr-shrink.com.
Be well and stay healthy. As always, please let us know what we can do for you. Thank you for working with us.
-Mike Stenberg, President & CEO, Dr. Shrink, Inc.

FALL PICKUP CHANGES FOR 2020
NEW 2020-2021 CATALOG NOW AVAILABLE!
LABOR DAY HEAT TOOL REPAIR PROMO
ESSENTIAL HOW-TO'S FOR THE FALL SEASON


PICKUP INFORMATION FROM THE DR. SHRINK WAREHOUSE FOR THE 2020 FALL SEASON
Due to COVID-19 restrictions and keeping our employees and customers safe, there have been changes made to our Customer Pick-Up process. Absolutely no customers are currently allowed inside of our building or warehouse at any time, for any reason. We are still allowing customers to drive-up to pick up their orders- orders must be placed and paid in advance and you will need to call upon arrival. Our warehouse staff will load your truck or vehicle as long as the following criteria is met:
Dr. Shrink staff will load the material if:
The vehicle has a separate trunk, truck bed, or SUV rear gate.
The vehicle has ample space to load.
The space is cleared for the material prior to loading. (Note, if the space is cluttered or materials/items need to be moved, the customer will be asked to come back after they have made room for the materials)
Dr. Shrink staff will not load the material if:
There is insufficient space.
The space is not cleared.
The customer wants the product in the back/front seats of the vehicle
Customers are welcome to load their own material if they are physically able. Please make sure you reference the weight and dimensions of your shrink wrap rolls and other items to be able to accommodate your pick-up.
Information to note prior to pick-up:
Come to back of Dr. Shrink for pickup (shipping/receiving area)
Please park to the left of the orange tent – do not block loading dock area
Remain in your vehicle and call 800-968-5147 to let us know you are here for pickup
We are open for pickup Monday-Friday from 8:00am-5:00pm EST. We will also be open on Saturdays starting September 12th until November 21st from 9:00am-2:00pm EST. If you place an online order for Saturday pickup, the order must be placed Friday by 2:00pm EST.
The safety of our staff and customers is our top priority and we thank you for your understanding!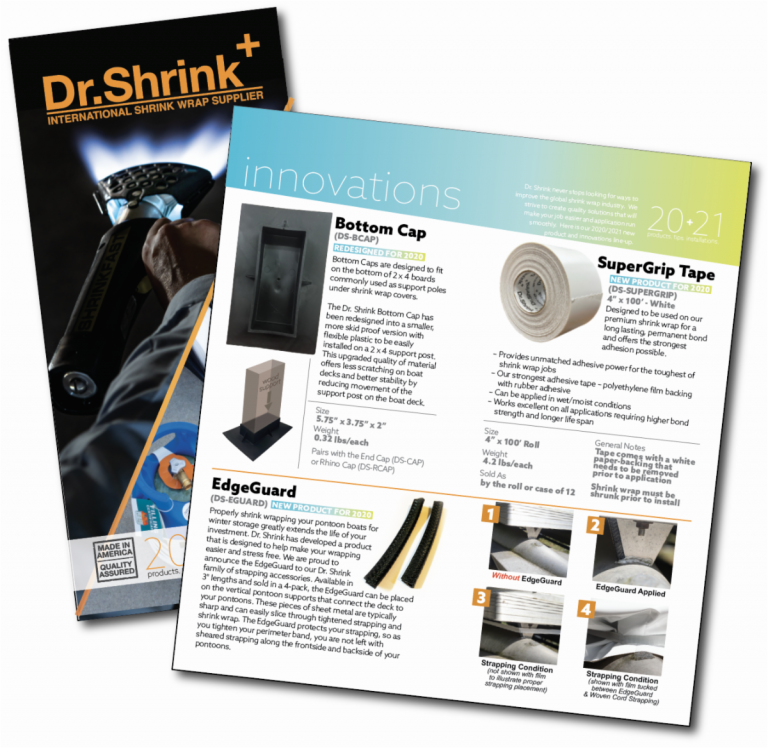 2020/2021 Dr. Shrink
CATALOG AVAILABLE!
We are thrilled to announce our new catalog is available for you to view online. Complete with new products and innovations for the upcoming year along with product tips and resources. View it online now, or give us a call to request a catalog and we will mail it to your door!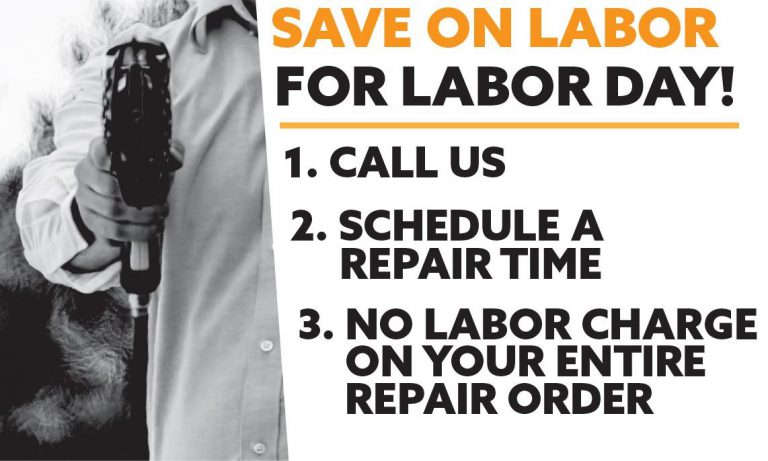 SCHEDULE A REPAIR SEPT. 1 – SEPT. 8 AND WE WILL COVER THE LABOR CHARGES!
This Labor Day we are really celebrating and we are waiving ALL labor charges on one heat tool repair- for one week only! Dust off those heat tools, primary and back-ups and let's get them in top working condition for the upcoming marine season!
In order to qualify for the deal you MUST call us between Sept. 1 and Sept. 8, 2020 and send in your heat tool. You MUST mention you saw this promotion – and we will take it from there.
*Limit one heat tool per customer for free labor promo*
A customer service rep will contact you with a repair quote before repair is started. Once you confirm the quote, repairs may take anywhere from 5-7 business days and then the heat tool will be shipped back to you.
We service all makes and models. Want to repair yourself?
Here is a complete list of repair parts.
Here is a video on how to install the Shrinkfast 998 Rebuild Kit.


Learn from the professionals at Dr. Shrink on how to shrink wrap your recreational boat or pontoon boat for storage. Already a pro at wrapping boats? These videos have some great tips and are excellent refreshers for the fall season!
Need a refresher on shrink wrapping your recreational boat? We have you covered with this quick tutorial. Complete with diagrams and how-to instruction.
If you have covered a recreational boat, a pontoon is similar, but with a few small differences. We take you through each of these points along with some insider tips.
Sailboats with their masts up are a whole new game when it comes to seasonal storage. Here we take you through all of the main points along with some key, time-saving tips along the way.
Campers are similar to other square objects, but a few differences include the strapping structure and best practices for securing for the duration of your storage season.
Take advantage of Weekly Bundles from the Dr.
If you are not currently part of our weekly bundle emails, please feel free to subscribe to our e-list. It's FREE!