*To see the entire Newsletter, click here.
Hope everyone had a Happy Halloween yesterday! Snow is in the forecast for next week in Manistee, MI. I've heard from several customers this season as they have expanded their mobile boat shrink wrapping services into including other outdoor items– ranging from patio furniture, outdoor kitchens, even swimming pools. Your customers' items will be good as new when unwrapped in the spring because of the protection shrink wrap provides. We have had several people across the nation calling in asking for shrink wrap services in their area — are you a mobile shrink wrap company who would like to be included on our "Professional Shrink Wrap Installers" list? Please email us your company name, phone number, address, location(s) you are willing to travel for a job, and company website if possible. We will get your name on our sheet and refer customers to you! Thank you once again for working with us this season and letting Dr. Shrink be your trusted shrink wrap supplier. Do you have everything you need? We are still stocked up and ready to ship!

Mike Stenberg
President & CEO
Dr. Shrink, Inc.

Inside the November Newsletter:
Export Excellence Award – Farmer's Almanac Winter Outlook – Tips & Tricks for Full Encapsulation – Halloween Party Photos – Residential Roofing Market – Weekly Bundle Sneak Peek
DR. SHRINK AWARDS
Dr. Shrink is proud to announce we received top honors as part of the International Boating Industry's Export Excellence Award. This award was presented last month during IBEX – International BoatBuilders' Exhibition & Conference in Tampa. Congratulations to all of the NMMA members who received awards and top honors– it is great to be connected and working in the same industry as all of these fantastic companies! For the full article, please click here.
ATTENTION INDUSTRIAL & TRANSPORTATION CUSTOMERS:
The 2020 edition of the Farmers' Almanac predicts that two-thirds of the country will face a colder-than-normalwinter season. The worst of this year's bitterly cold winter will affect the eastern parts of the Rockies all the way to the Appalachians. The Almanac calls for above-normal winter precipitation over the eastern third of the country as well as the Great Plains, Midwest, and the Great Lakes.
No matter the weather– heavy equipment, large products, and other industrial items still need to be transported and shipped to their final destination, often on an open-bed trailer due to the size. Shrink wrap is your answer to this logistical problem causing weather damage to your product, as it protects all sizes and types of items from the elements. Be sure to read our section below regarding shrink wrap for full encapsulation. Don't let the winter season and elements wreck havoc on your assets! Make shrink wrapping a year-round business.
DR. SHRINK TIPS & TRICKS
While thinking of the upcoming winter forecast and discussing the shipping, transportation, and industrial markets– it will be helpful to see exactly how shrink wrap is applied for full encapsulation. Take a look below at the diagrams with clickable links to written instructions, or view our How-To Video for Full Encapsulation. Now is the time to tap into this market if you have been considering it! We are here to help you start. To see more pictures of how-to fully encapsulate, click here.
Photo One: Determine Base Roll Width Size: A+24″+24″ = Base Width Roll Size
24″ of additional shrink wrap material around the perimeter width of object
Photo Two: Determine Cover Roll Width Size: X+Y+Z = Cover Roll Width Size
At the widest point, measure from the base of object, up, over, and down the opposite side
Photo Three: Creating Your Seams, Encapsulating & Vent Placement
– Drape wrap over the object, create seams like you are wrapping a present, and trim away any excess wrap. Weld along these seams. After cover is completely shrunk, tape along the weld seams.
– Place vents in the upper 1/4 of the wrapped object to reduce moisture and condensation.

Need more training guides? Visit our website here.
DR. SHRINK EVENTS
Pumpkin Carving Fun!
Dr. Shrink was in the Halloween spirit with some pumpkin carving and games last weekend! We had some great big pumpkins, perfect for carving, fresh from Miller's Produce here in Manistee. Take a look at the full photo album on our Facebook page.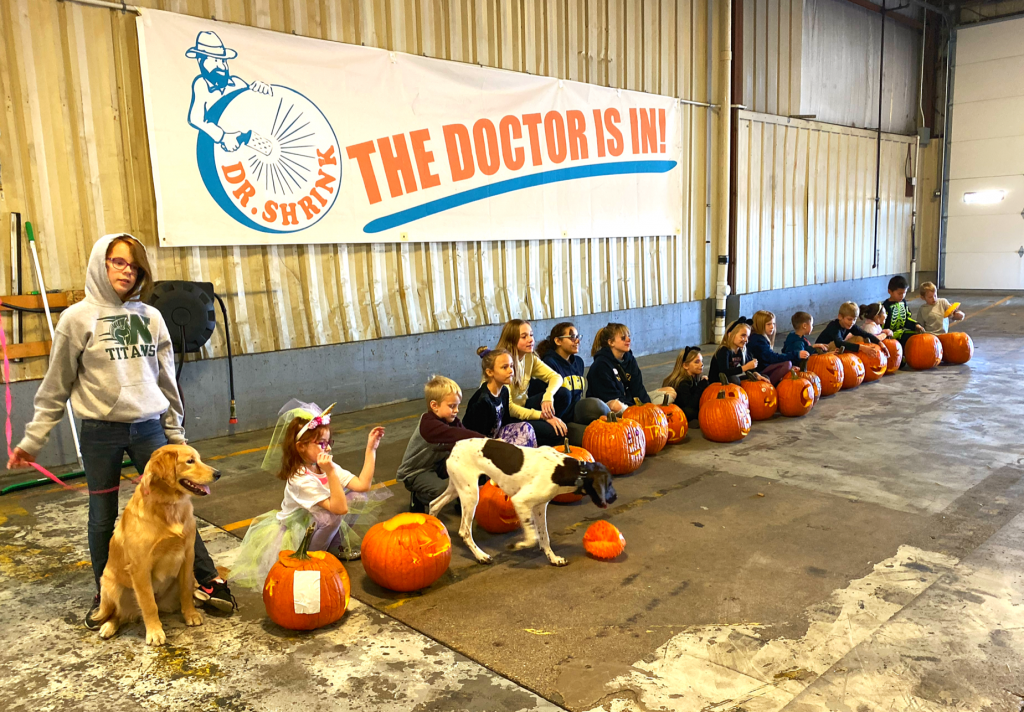 DR. SHRINK FEATURED INDUSTRIES – Residential Roofing
These photos show shrink wrap being used as a temporary fix for a leaky roof until the entire roof could be repaired. Wood strips were used along the perimeter of the gutter line and the installer made his own lines with strapping to attach the shrink wrap to. Rope repel gear and an 80′ man-lift was used to shrink the job once attached. Photos courtesy of Jason Hebb and team in Delta, BC Canada. Great work and thank you for sharing your photos!
Weekly Bundle Deals from The Dr.